Realised projects - concerts - colaboration
"My tři"
Věra Blašková - accordion
Marie Zichová - accordion
Ivana Růžičková - vocal

Information coming soon.
Duo accordion-cello
Hazel Collins - cello
Marie Zichová - accordion

I was very enthusiastic when Hazel expressed her will to play duo with me. Hazel is my colleague from Maoin Cheoil na Gaillimhe music school in Galway and we both love tangos of Astor Piazzolla. Which means that our repertoire is dedicated to his emotional music. We are also interested in French musette.
Our collaboration is very creative. We are trying to bring new ideas to our music and our arrangements are written with strong attention to keep balance between cello and accordion.




S.A.V. Project (Sound Accordion Vision)
Marie Zichová - accordion

S.A.V. is a project where I use Roland V-Accordion and its sound efects. Music does not need to show big ideas or composers´ excellences. Sometimes it could express just a feeling, sound colors or sound illusions. V-Accordion Roland is a music instrument of extraordinary sound possibilities, which I am still discovering. I believe that this project is going to have an interesting future.
Faces of accordion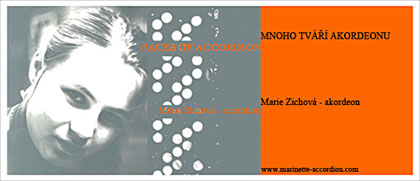 Marie Zichová - accordion

The solo accordion concert which presents accordion as a versatile music instrument. During the concert I play classical music from J.S.Bach, D. Scarlatti as well as popular music, chansons etc. Duration of concert is about 60 minutes with 10 minutes of pause.



Let´s Dance into the Fairy Tales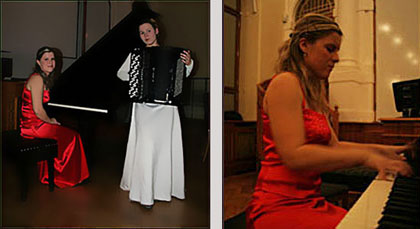 Dana Řeřichová - piano
Marie Zichová - accordion

Presentation of the concert by Václav Trojan - Fairy Tales. The series of concert Let´s Dance into the Fairy Tales were very successful. We also participated in an audition which took place on 12th March 2007. The Jury chose our interpretation of Fairy Tales concert and asked me to present it together with Symphony Orchestra on 20th June 2007 in Měšťanská Beseda in Pilsen. Working with Dana is very creative and pleasant for me. I am still in touch with her.
At present, Dana Řeřichová is studying music and piano at Music Academy of Leoś Janáček in Brno.

Accordion and poetry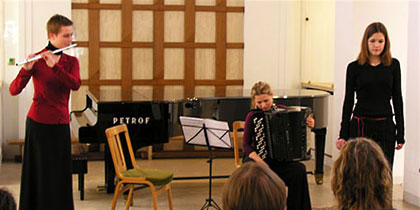 Markéta Irová - poetry
Jana Koutná - flute
Marie Zichová - accordion

The connection of music and poetry was the main idea of this project. Martéta Irová is a an excellent poet. She published several collections of her poetry, which were well received. Her poerty is full of emotions such as the acoordion repertoire which it accompanied. The guest flute Jana Koutná from Pilsner Philharmony joined us and help us to make a good atmosphere.

Jazz band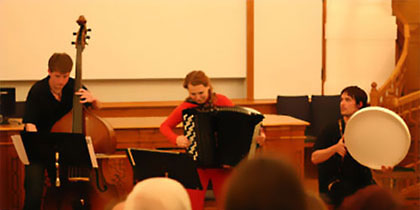 Dana Řeřichová - piano
Tomáš Karpíšek - double-bass
Ruda Přib - drums
Petr Mastroiany - orient drums
Marie Zichová - accordion

The Jazz band consisted of musicians who enjoy improvising and jazz itself. Its repertoire consisted of music of Richard Galliano (french accordion player and composer) in our arragement. All members of band are very good musicians. The band performed at my graduate concert.


Duo Accordion-Drums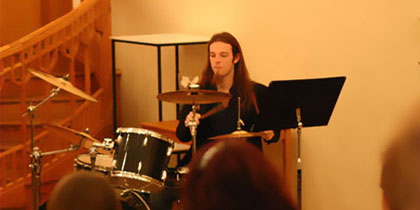 Ruda Přib - drums
Marie Zichová - accordion

The collaboration with Ruda was very interesting. You can listen to our arragement of jazz composition by V. Zubitsky - Omaggio ad Astor Piazzolla here.







Accordion Trio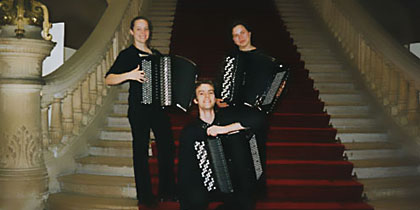 Fanny Dillot - accordion
Koen Walravens - accordion
Marie Zichová - accordion

Trio existed in years 2003-2004 under C.N.I.M.A in France. This international accordion trio Belgiun-France-Czech Republic participated in Accordion competition in Paris where it obtained 2. prize in chambre music in 2004. The trio played classical music.



PEGAS accordion orchestra
conductor: Věra Blašková, Jan Kotrč
accordion: Hanka Tůmová, Věra Mazalová(Pašková), Marie Zichová, Míša Berdychová(Lukšanová), Honza Havel,
Radek Dlouhý, Petr Vacek, Pavel Utler
keyboard: Hanka Švamberková (Jiroušková)
drums: Lucka Mikulíková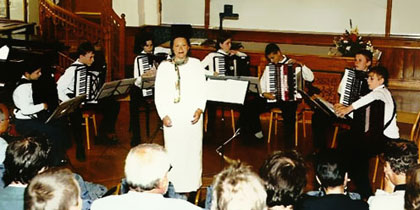 The PEGAS accordion orchestra existed since 1994 till 2000. The conductor was Věra Blašková. During first few months of its existence, PEGAS became an extraordinary accordion orchestra. Pegas performed in a number of public concerts in Czech Republic and Germany. Its the best success was 1. prize at Accordion Festival of Popular Music, Bohemia Musico – Delicia Hořovice in 2000. The orchestra recorded in Czech Radio and was invited to perform in Klingenthal and in Gera at the Music Festival.

Milenium accordion orchestra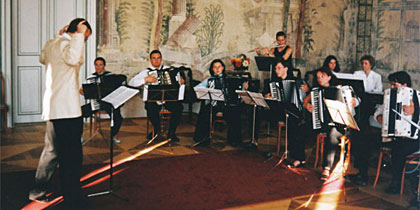 conductor: Jan Kotrč
accordion: Pavel Samiec, Vaclav Sobusta, Radek Dlouhý, Josef Hřebík, Dana Šašková, Věra Blašková, Václav Mlejnek, Marie Zichová
piano: Alena Kuncmanová
flute: Jana Koutná
drums: Lucka Mikulíková






Accordion Duo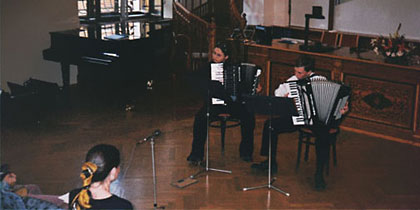 Radek Dlouhý - accordion
Marie Zichová - accordion

This accordion duo existed since 1994 till 1999 under Věra Blaškova at Music school of Bedřich Smetana in Pilsen. The duo participated in a number of national and international competitions and obtained several awards such as 1. prize at the Internationaler Akkordeonwettbewerb Klingenthal - 28. Kleine Tage der Harmonika in 2000, 3. prize at Accordion Festival of Popular Music - Bohemia Musico - Delicia Hořovice in 1997 etc. The duo played classical music as well as popular music.
My cooperation with Radek Dlouhý was one of the best collaborations in my chambre music experience. It is not easy to find a musician like Radek who feels the music as I do.
At present, Radek Dlouhy is studying music and accordion at Pedagogical Faculty ZCU in Pilsen.
Realised projects - seminars, master classes
2nd Accordion Experience Exchange
21st-23rd November 2008, centre Chaloupky in Kněžicích na Vysočině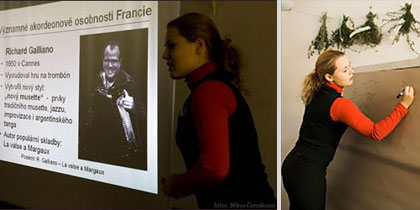 Already the second year of the Accordion Experience Exchange took place in Kněžice u Jihlavy in the Chaloupky center. This master class was designed for all accordion players, profesionals as well as amateurs, first of all for the players who play accordion for fun and take the accordion as their hobby. All participants came to learn something new about this music instrument. The atmosphere of the entire master class was very friendly. The main organiser, Jindřich Kelíšek, took care of the master class so that everything was excellent. Lecturers at the master class were:

Jana Bezpalcová (accordion) and Michal Plachta (guitar)
Kateřina Paclíková (accordion)
Stanislav Samuel Raška (accordion)
Marie Zichová (accordion)

Besides the accordion master class, there was a very interesting programme composed of lectures, discussions and audio-visual projects. All participants performed a small concert for pleasure every evening. Further information can be found on the web-page: www.harmonika.cz
Seminary - Accordion and Its Application in Present Music
10th May 2008 Accordion Seminary - Janáček´s Conservatory, Ostrava

The Accordion Seminary for music school teachers and general public. was organised by Janáček´s Conservatory. The seminary topic was "Accordion and Its Application in Present Music". The main organiser was Marcela Halmová and the lecturers were:
Marcela Halmová
Ivanou Neuwirthová
Marie Zichová

Participation was great, about 40 people. Every participant obtained a certificate, which was interesting especially for music school teachers. The programme of the seminar consisted of:
Short history of accordion in the world and in the Czech Republic
The most important countries in the accordion world (France, Italy, Russia, Poland, Serbia...)
Interesting competitions for children and adults
Some interesting recordings and scores for teachers
Accordion in Czech Republic and Slovakia – schools, festivals, competitions, important persons
Presentation of the French and the Irish accordion music
All lectures were completed by audio and audio-visual presentation. The Accordion Seminary was closed with the concert of students of the Janáček's Conservatory and the performance of Marie Zichová. The entire project was garanted by Ministry of Education of Czech Republic.